Fulbright Israel Diversity Statement
The Fulbright Commission in Israel is committed to promoting equality and providing an environment where all members of its community are treated with respect and dignity. The commission does not and shall not discriminate on the basis of race, color, religion (belief or lack of belief), gender, gender expression, age, national origin (ancestry), disability, marital status, sexual orientation or military status, in any of its programs, activities or operations. We are committed to providing an inclusive and welcoming environment for all members of our staff, award candidates and fellows, alumni, volunteers, subcontractors, and partners.
"We at Fulbright Israel attach great importance to diversity and see it as an important civic value on the road to our success. We also believe that it is important to include the opinion of people representing different communities and unusual perspectives in the initial stages of policymaking.  We have a civic and democratic duty to open our gates to all groups of the population and to find ways to understand and be tolerant to different voices within us.
In addition to our commitment to diversity and inclusion as a democratic principle, we also believe in the connection between diversity and success. The human history and history of business organizations demonstrates that societies that were open to diversity and inclusion prospered. Diversity is encouraging people from different communities and different backgrounds, of all beliefs, origin, gender and geographical and socio-economic status to take part in our program.   Diversity is also about welcoming interdisciplinary fields of knowledge and those that are not sufficiently represented. If our vision is realized, the organization will be sustainable and new areas of knowledge that we cannot currently imagine will come to our door." - Anat Lapidot-Firilla, Fulbright Israel Executive Director
Global Fulbright Statements on Diversity, Equity & Inclusion
Fulbright Foreign Student Program
Fulbright U.S. Student Program
Fulbright Israel DEI Advisory Board
Th DEI Advisory Board is a new initiative at Fulbright Israel, featuring a range of alumni from both our US and Israel programs.  This board meets semi-regularly to discuss strengths and opportunities for improvement in diversity, equity and inclusion at our commission.  
2022-2023 DEI Advisory Board Members:
Jade Kosche - US Master's degree fellow in Law at Tel Aviv University 2020-2021
Jovan Ruvalcaba - US Master's degree fellow in Law at Tel Aviv University 2019-2020
Yvette Deane - US Open Research fellow at Hebrew University 2016-2017
Jonathan Alegria - US ETA fellow at Oranim College 2021-2022
Chen Shmilo - Israel Humphrey fellow at Virginia Commonwealth University 2017-2018
Roni Belenki - Israel Master's degree fellow in Public Policy, Columbia University 2019-2020
Rana Khalaila - Israel FOP Outreach Program fellow at Georgetown University 2019-2020
Fulbright Forward: A Diversity Podcast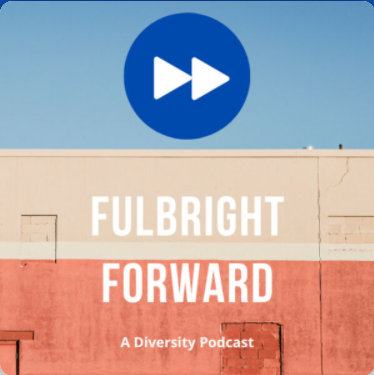 This podcast features alums of the Fulbright Program who talk about their work and research, about regional and local ramifications of global diversity-related issues, and
the impact their Fulbright experience has had on their personal and professional growth. Episodes will also feature advocates and professionals from diverse communities working towards greater inclusion in higher education/educational exchange.
Please note: The views expressed in this interview series are entirely those of participants, and do not represent the views of the Fulbright Program, the U.S. Department of State, or any of its partner organizations.
New episodes released monthly.
Fulbright International Diversity Groups