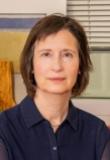 Dr. Anat Lapidot-Firilla
Executive Director
Email:
alapidot@fulbright.org.il
Anat joined the Fulbright Commission in October 2014. Prior to joining Fulbright Israel, she was senior research fellow and Academic Director of the Mediterranean Program at the Van Leer Jerusalem Institute. She is founding editor of Journal of Levantine Studies, a semiannual Academic journal. She taught Middle Eastern studies and Turkish Studies at the Department of International Relations at the Hebrew University of Jerusalem. Between 2009-2014 she headed the Israeli network of the Anna Lindh Foundation for Intercultural Dialogue. Anat received her BA in Jewish History and Middle Eastern Studies from Tel Aviv University, and holds a PhD from the Department of Politics, the University of Durham, U.K.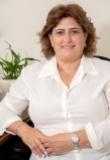 Simcha Luzon
Finance Manager
Email:
SimchaL@fulbright.org.il
Since March 2016, Simcha has been working as a Fiscal manager at Fulbright Commission in Israel. She has more than  20 years of experience with high-tech companies.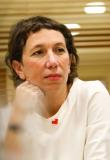 Noa Turgeman
Deputy Director of Programs
Email:
noat@fulbright.org.il
Noa Turgeman is Fulbright Israel's Deputy Director for Programs.
Noa was a Program Director at ILGBC (Israeli Green Building Council). Prior to that, she was the Co-Executive Director of the Women's Courtyard in Jaffa. Noa has also held executive and development positions at the San Francisco Bay area Jewish Federation and at Lehrhaus Judaica, Berkeley CA.
Noa holds two MA degrees from Tel Aviv University – in Comparative literature and in East Asian Studies. She is cuently a PhD candidate at the graduate program in science, technology and society in Bar Ilan University.
Noa lives in Tel Aviv with her partner and three children, leading an urban life. She is an avid fan of Japanese culture and art, an amateur photographer, and rides her bicycle to work every day.
Gili Livne
Community Lead
Email:
gilil@fulbright.org.il
Gili Livne is the Community Lead at Fulbright Israel and brings to the Foundation experience in international collaborations, managing international events, delegations & conferences.
Gili's prior professional experience includes: founding team- member of a new government initiative under the Israeli Ministry of Culture, focusing on the heritage and history of the Ethiopian Jews; she was in charge of operations at the UK Israel Tech Hub, a public-private initiative that was established in order to promote partnerships in technology and innovation between Israel and the UK; and Ceremonies & Special Events Coordinator, Division for Advancement & External Relations at The Hebrew University of Jerusalem.
Gili holds an MA with Honors in Communication & Journalism from The Hebrew University of Jerusalem and lives in Ramat Gan with her dog Jeremiah.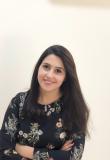 Besan Asbi
Israel Programs Coordinator
Email:
Besan@fulbright.org.il
Besan Asbi is our Israel Programs Coordinator.
Prior, she led the Arab Sector at the British Embassy's UK Israel Tech Hub, where she supported the formulation and execution of programs connecting the emerging Arab Tech Sector to  business opportunities in the UK and enhancing the assimilation of the Arab community into the high-tech ecosystem.  In this position, she also established the first ever digital platform for Arab entrepreneurs- arabtechport.com.
Besan has over 6 years' experience managing programs and community projects in the private and public sectors.  She holds a B.A. in Social Work and is currently studying for a M.A. in Diplomacy.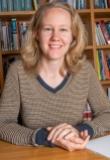 Deborah Kaufman
Alumni Coordinator
Email:
dkaufman@fulbright.org.il
Deborah's main role is working with the Fulbright Alumni Association of Israel (FAAI) to create frameworks for alumni engagement. She produces the semiannual Fulbright Israel Alumni Newsletter, manages alumni social media platforms and provides administrative support for the Friends of Fulbright Association.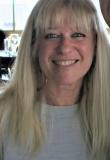 Esti Sherbelis
Office Manager
Email:
EstiS@fulbright.org.il
Esti Sherbelis is the Office Manager at Fulbright Israel. Prior to her current position Esti was a PR and International Relations Consultant, strategizing to increase awareness of foundations, businesses and organizations. For several years Esti served as the Public Diplomacy Officer and EA to the Ambassador at the Australian Embassy in Israel, identifying strategies to promote Australia in Israel. Before this Esti worked as the Foreign Affairs Officer at the Israeli Medical Association. There she established joint projects with health organizations and managed campaigns and conferences.
Esti holds two BAs with Honors in English and Education from Haifa University. She completed a certificate in Business Management with High Distinction at TAFE, Australia. Esti also has a Diploma in Advertising, Public Relations, and Public Speaking from Haifa University.