November 14th, World Diabetes Day, is the time to raise awareness about this common and dreadful disease afflicting over 400 million people globally. In diabetes, the levels of glucose in the blood are abnormally high, leading eventually to blindness, limb amputations, kidney failure and death. It is also a driver for cardiovascular disease and some types of cancer and neurological diseases.
There are two main types of diabetes: type 1 diabetes is an autoimmune disease that can start at any age. We do not know what causes it, although there is a genetic component, and its prevalence is alarmingly increasing, suggesting an environmental component. There is no cure, but it can be treated with insulin, a hormone that controls the glucose levels in the blood. Over 90% of diabetes patients however suffer from type 2 diabetes which is less severe.
Type 2 is associated with obesity and aging but also has a strong genetic component. In this case we've seen new drugs entering the market that help the body to lower glucose. In many cases, type 2 diabetes can be controlled by changing nutrition, exercising and in general adopting a healthier life style.
It's been known for over 20 years now that weight-loss surgeries lead to dramatic improvements in type 2 diabetes and sometimes cure the disease, even independent of weight-loss. Finding how these surgeries achieve this dramatic effect, and applying it to obese and lean diabetes patients is a goal of the research in my lab in the Hebrew University's medical school. We use mice, mathematical models, clinical data and samples to figure out the biological impact of the surgery, and attempt to reinstitute its effect using molecular tools to circumvent the surgery.
Dr. Danny Ben-Zvi is an Assistant Professor at The Hebrew University of Jerusalem's Medical School where he heads a lab on systems physiology of obesity and diabetes. He did his PhD in systems and developmental biology in the Weizmann Institute and then switched to metabolism for his post-doc at Harvard as a Fulbright Fellow in 2011, where he learned to perform bariatric surgeries on mice at Boston Children's Hospital.
Photos below courtesy of Dr. Danny Ben-Zvi.

Photo credit: The Hebrew University of Jerusalem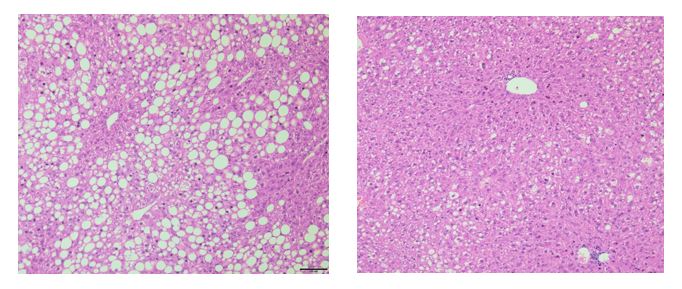 An image of the liver of two obese mice weighing the same who underwent a control (left) or bariatric surgery (right). White circles, which are far more prevalent in mice that did not receive bariatric surgery, are lipid droplets that disrupt the normal function of the liver, and cause the development of type 2 diabetes.