لمشاهدة خريجي الاشهر السابقة اضغط هنا
نرمين سلامة
 برنامج فولبرايت للمساعدة في تدريس اللغة العربية, 2017
المؤسسة المضيفة: كلية اليجيني
المؤسسة الام: جامعة تل ابيب 
مجال: ادب انجليزي وعلم اللغة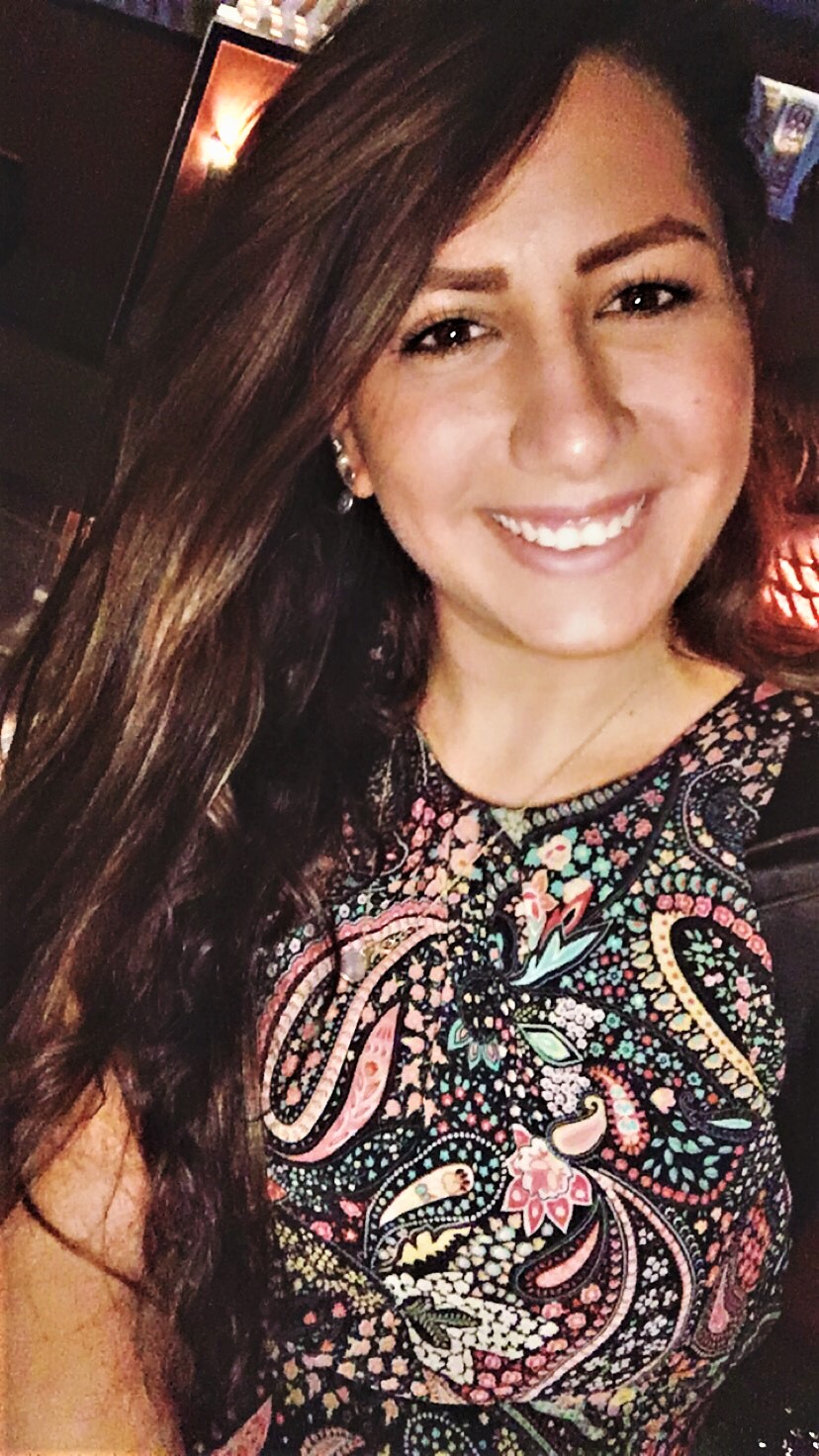 "A year of your study abroad life will be with you forever. The experience enriches you on so many levels and enables you to rediscover yourself."  
~~~
"I got interested in English due to an unpleasant experience which turned out to be the best thing that happened to me" Narmeen Salama says, recalling her childhood. "When I was in the 4th grade, our teacher asked us to spell the word television on the board. I was the only kid who volunteered and I misspelled it. The teacher didn't complement me for trying, and my classmates laughed at me. I was really hurt. I went home and told my dad, who said that just trying is a big deal and that I could learn more if I kept trying. So I started watching TV and reading books, and that's how I fell in love with languages- which brought me to a point where I am now, an English teacher, and studying languages effect on people."
Narmeen began her studies at Maker High School near Akko, earning her Bagrut in Biology and Chemistry. She then earned a certificate in Teaching English as a Second Language (TESL) and a B.A. in English Literature and Communication, both from Tel Aviv University.
In 2017 Narmeen was a Fulbright FLTA fellow at Allegheny College in Pennsylvania, where she taught Arabic to university students for the first time. "Teaching Arabic was a whole process of re-learning the language because it is so natural to us, as native speakers, that we don't think about the basics" Narmeen reflects. "It's fascinating to put yourself in the students' shoes and be able to break down your own language."
The cultural and personal aspects of the FLTA experience also greatly impacted Narmeen:  "The best thing about being an FLTA fellow is meeting new people from all over the world and connecting through English. You learn so much about 'The Other' and the world. You also learn more about yourself and what you can do. It tests you."
Since returning to Israel in 2018, Narmeen has been working as an English teacher at Nofar Middle School in Naharyia. In 2019, she also began an MA in Multilingual Education at Tel Aviv University. Her thesis is on teaching English in a multilingual, multicultural county. Specifically, she is interested in researching language/identity issues among Arab-Israelis, including those who participate in study abroad programs and return home after their experience is over.
Contact Narmeen at: [email protected]
All photos courtesy of Narmeen Salama.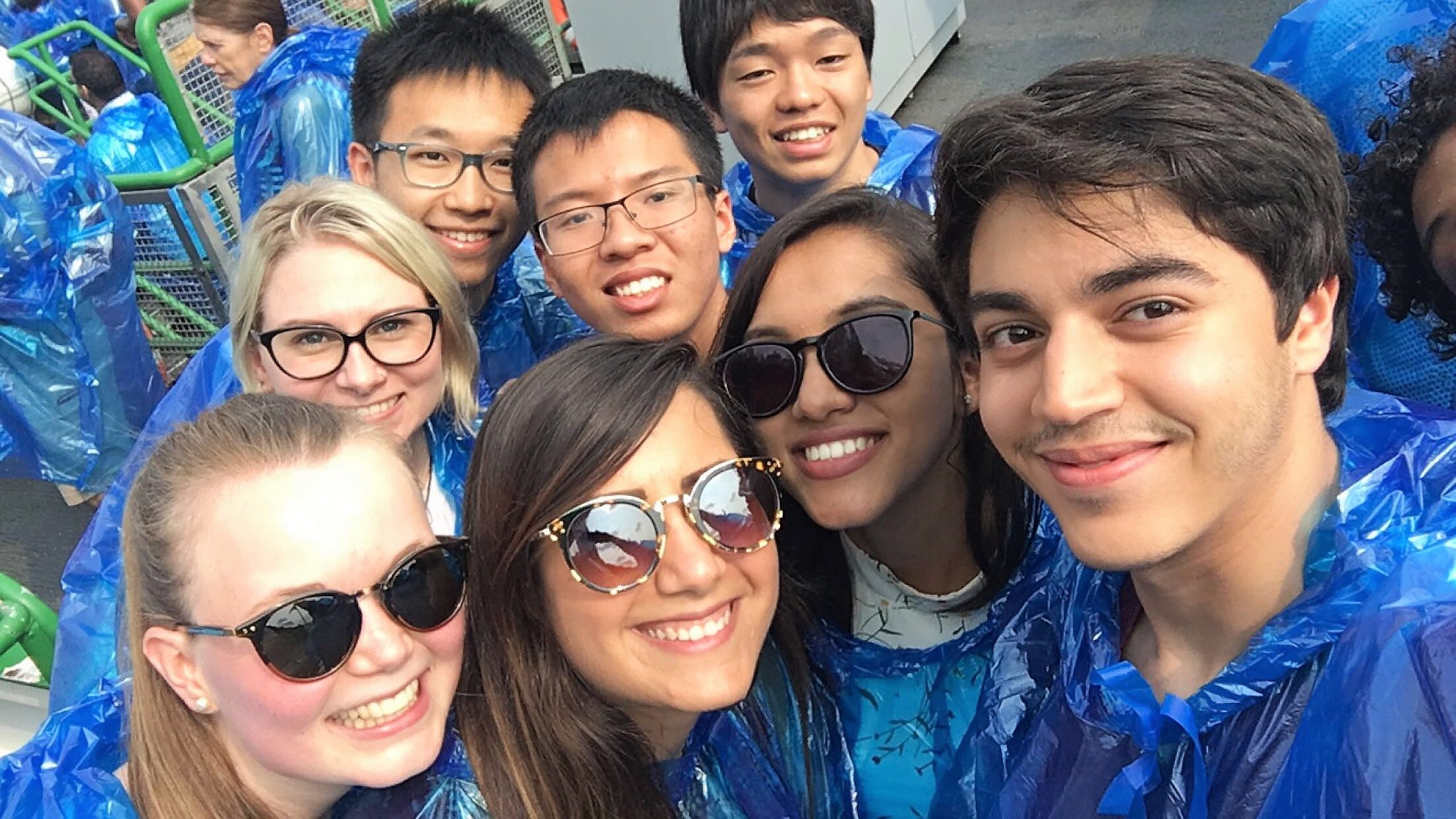 Narmeen (center, glasses) with international students, Allegheny College.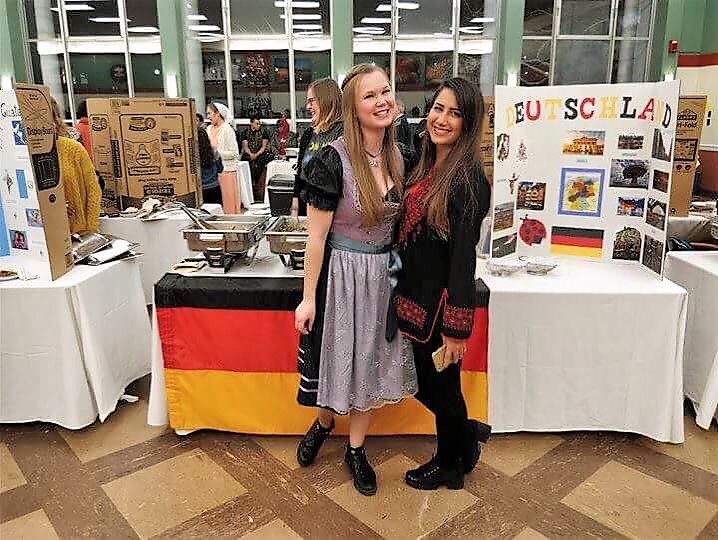 Narmeen and a Germany teaching assistant at Fulbright International Day, Allegheny College.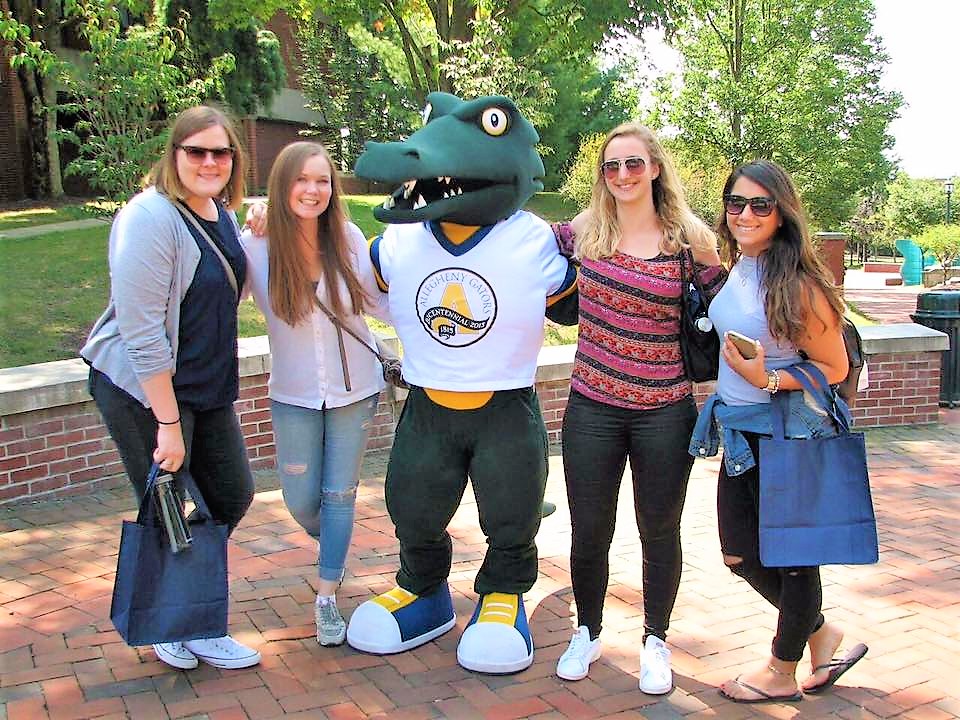 Narmeen (first, right) stands with international Fulbright fellows and the Allegheny College alligator mascot.